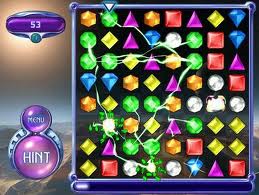 One of the most addictive puzzlers is now getting a facelift thanks to PopCap. As of today, an all-new adaptation of Bejeweled as well as a new freemium standalone version of Bejeweled Blitz have crashed onto the app store and are ready for download.
Why the change? PopCap have made a statement about the new Bejeweled which gives us a further look into the causal mastermind's future.
"With nearly 40 million mobile units sold over the past eight years, Bejeweled is the second best-selling mobile game of all time, behind only Tetris," noted Giordano Bruno Contestabile, Bejeweled franchise business director at PopCap Games. "As we strive to reach virtually everyone with a mobile communications device, PopCap will continue to make games that are even more accessible to that ever-expanding global audience. We're taking a critical step toward this goal with the introduction of these new Bejeweled titles that will enhance our offerings on the iPhone for years to come."
This new and constantly evolving Bejeweled sounds great so far, and luckily, some new features have also been detailed to give us a glimpse of all the offerings included.
New high-res graphics and retina display support
3 game modes: Classic, Zen (featuring 6 ambient sound tracks and 6 mantras) and Diamond Mine
In-game leaderboards to track personal high scores
User profiles with gameplay statistics and 30 PopCap icons to personalize the experience
7 achievement badges with 4 levels each (bronze, silver, gold, platinum), plus 3 elite badges
A player ranking system
As mentioned, Bejeweled Blitz is also getting an overhaul with it's own goods in store. As most of you are aware, this little title started on Facebook and has turned into a social gaming phenomenon. Here is what's in store for this outing:
An entirely new and irresistible user-interface
The Daily Spin feature where players try their luck to get bonus coins
A fun new tutorial system to help get new players moving up the leaderboards as quickly as possible
Retina display support and more
So what happens to the old Bejeweled 2 + Blitz? A nice room at Shady Falls as that classic has been completely retired to make room for these much more enhanced versions. Players can visit the Apple App Store to download the all-new Bejeweled for €0.79 (UK £0.69).