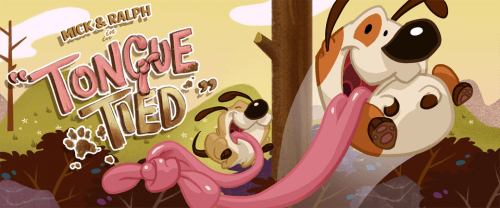 On the 15th of December, Mojo Bones will be unleashing their debt title, Tongue Tied – the rubbery physics-based adventure for iOS. The title will feature two lovable canine characters, Mick and Ralph, who will need to use their special tongue tied abilities to earn gold medals across 50 levels – filled with whacky obstacles like hanging tired, breakable Bone Bags and crumbling floors.
Mojo Bones have designed Tongue Tied to be take advantage of iOS devices touch screens, using the physics-based elasticity of Mick and Ralphs tied tongues to hang from platforms, swing from objects and leap into the air. All of which are performable with a few simple gestures.
Tongue Tied will have full Game Center support with leaderboards and achievements as well as 'Mick and Ralph's DogHouse' featuring 30 separate challenges with some of the most interesting rewards you're likely to see. If that isn't enough, Mojo Bones also guarantee free updates through out the year.
Tongue Tied will be available on the App Store December 15 for iPhone, iPad and iPod Touch for only $1.99. Check out the brand new gameplay video below, or visit Mojobones.co.uk for more information.