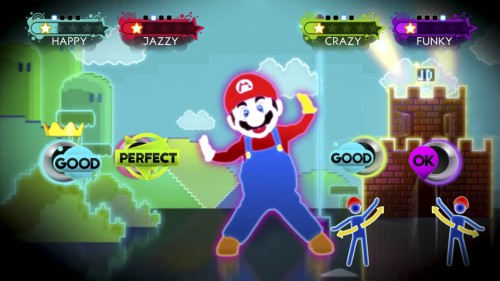 Who doesn't love the Mario soundtrack? Well now you have a reason to dance to it apart from it's damn catchy self – Ubisoft are releasing the DLC for Just Dance 3 where you get to dance along with Mario. Not only do you get to get down and funky with Mario dancing around on your screen but you'll also recognise some of the settings you go through, as well as some damn catchy tunes that I'm sure most of us spent our childhood listening to.
The new track joins seven other DLC additons: Anja's Baby Don't Stop Now, Studio Allstars' Jump, Olé Orquesta's JamboMambo, The Girly Team's TwistShakeIt, U Can't Touch This and Soul Searchin by Groove Century and In the Style of Irene Cara's Fame, all priced at 250 Wii Points each.
The Mario DLC is available NOW exclusively on the Wii version of Just Dance 3 for 250 Wii Points.
Check out the DLC footage below!