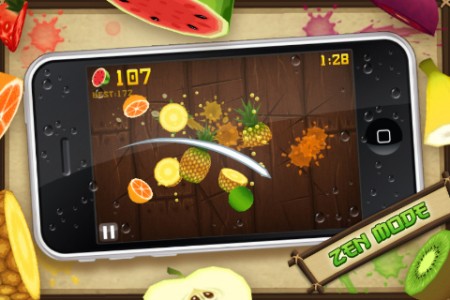 Halfbrick is one of the biggest success stories coming out of the Australian development scene. They hit success with Fruit Ninja on iOS. It is a game where you slice fruit for a high score. The game has expanded to various platforms since release but it has been revealed that their new Sydney studio, which is yet to open, will be developing a sequel to be released in 2012 for iOS devices, although expansion to other platforms is not out of the question. The New South Wales government has injected AU$3 million into the new studio.
Deputy Premier of New South Wales Andrew Stoner revealed the sequel. Odd that a deputy premier would be the one to reveal the game's development:
"The new Sydney team will develop the next evolution of the Fruit Ninja games franchise. It will involve players launching a series of fruit to knock ninjas off their towers in a 3D world, with each fruit having special powers."
This looks like part of a plan to expand digital media development in New South Wales. This is what Stoner had to say about the wider plan:
"The digital games sector will be increasingly important in developing serious business and education tools, as well as entertainment games like the latest Fruit Ninja project."
Now, where was the government when Sydney studios were going under? Why Halfbrick? Yes, they are talented developers, no doubt about that. But is the iOS platform actually a viable long term investment? In my own opinion and you can disagree with me, I believe it won't be. I look at the smartphone situation as a bubble market. If you have a hit, that hit could only be a hit for a week or even a couple of days. Developers are treading on water when they rely on the smartphone and digital markets.