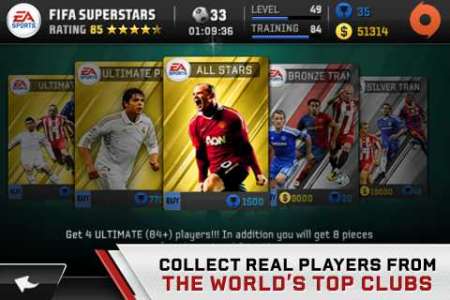 EA has added to its list of free-to-play games for iOS, announcing today that FIFA Superstars and Theme Park would be unleashed upon the app store.
FIFA Superstars brings the popular Facebook game to your nearest iPad, iPhone, or iPod Touch. Players can choose their favourite football superstars, from Rooney to Kaka, and manage their ultimate team. They can then take their teams and pit them against those of their friends, all the while buying, trading, and training players over the course of an in-game season.
Meanwhile, Theme Park brings the bestselling series to iOS devices as a completely new gaming experience. Players will create, manage, and develop their own theme parks with attractions, rides, and shops. They can also complete quests to level-up and unlock new features, or they can simply play indefinitely and build up their park right away. Finally, Super Tickets can be purchased to accelerate profit and construction times, as well as unlocking new rides and shops early.
Much like the other freemium games offered by EA, FIFA Superstars and Theme Park offer players the choice of playing entirely for free or laying down some cash for an enhanced experience.