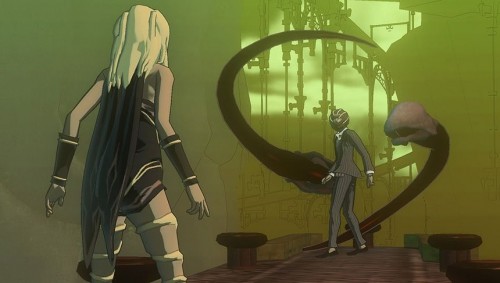 Gravity Rush is one of the most anticipated Playstation Vita games that will be released post launch in Japan. If you want to get this game, for those in the West, then you will be happy to know that there will be an English version of the game coming. How? Well… the ESRB have been busy rating the game. The game will be rated T for Teen and includes Fantasy Violence, Mild Suggestive Themes and Use of Alcohol.
Here is the description from the ESRB:
This is an action-adventure game in which players assume the role of a woman on a quest to uncover the secrets of her past. As players manipulate gravity to traverse through fantastical environments, they engage in hand-to-hand combat with blob-like creatures (i.e., Nevi) that break apart and disappear when defeated. Players can also throw various projectiles (e.g., boxes, furniture, crystals) at nearby enemies; battles are highlighted by cries of pain and colorful light effects. Some cutscenes contain other instances of violence: a character beating up armed thugs; a girl getting "eaten" (i.e., absorbed) by a large Nevi. During the course of the game, some female characters wear revealing outfits, and one still-frame cutscene depicts a woman covering her breasts after dropping a towel. Some sequences depict up-skirt camera angles as players' character flies through the air. The game also includes a protracted interaction with a drunken character (e.g., "Wow he smells like he crawled out of the bottle" and "Ahh, the flower of the nightclub! *Hic*").
Expect the game in the West on launch day for all territories. In Japan, the game will be released in February 2012.