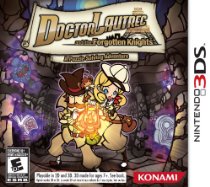 Doctor Lautrec and the Forgotten Knights has now been released on the Nintendo 3DS by Konami Digital Entertainment. A great idea for a stocking stuffer, Doctor Lautrec is an awesome puzzle solving adventure game that combines challenging riddles, exploration, imminent danger and history to create an exciting narrative.
Doctor Lautrec is set in 19th Century Paris, on a mission to uncover the hidden treasures of Louis XIV. You assume the identity of Doctor Lautrec, a curious archaeologist with a penchant for adventure. Trying to get past all the puzzles to get down to the truth and uncover the mystery of this infamous King.
Doctor Lautrec utilizes the Nintendo 3DS to the full extent of all the 3DS features. Use your memory and skills to beat the puzzles and solve the mystery!
Doctor Lautrec and the Forgotten Knights is available on Nintendo 3DS for $29.96. Grab it HERE.