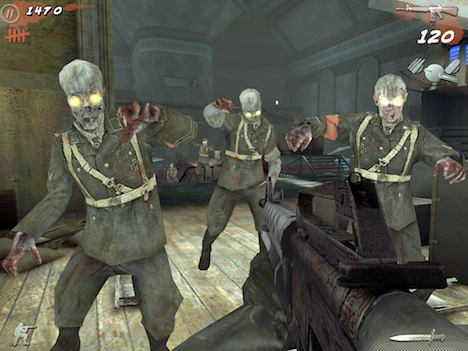 Want more zombies on you Apple device of choice? Call of Duty has the answer, with another entry in the franchises iOS 'zombie experience', this time riffing on Call of Duty Black Ops.
The Call of Duty: Black Ops Zombies app has been built specifically for Apple devices, and although optimised to perform best on 3rd generation and higher models, promises to be equally impressive on it's gory goodness no matter what size screen your playing on – whether it's iPad or iPhone.
There are 50 levels of the fan favourite zombie mode on offer here, and to keep that famous Call of Duty team spirit alive there's even voice chat available in the multiplayer. Up to four players can join a game to take down the undead hordes, and fans should keep an eye out for future updates that will include feature upgrades and extra maps (surprise!).
Ready to build some more barricades?
Black Ops Zombies is available now on the App Store, priced at $7.49