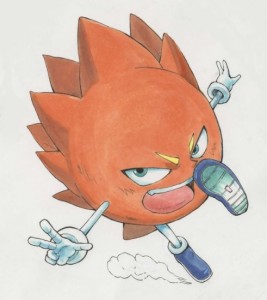 Because you all could not get enough of Bobobo-Bo Bo-Bobo with all it's nose hair battles and complete utter randomness, a spin-off manga of the series is now in the works. The spin-off manga is set to be serialized in Shueisha's latest manga magazine, Saikyou Jump.
The new series is titled Fuwari! Don Patch and will focus on the Don Patch character. A new design for Don Patch has been released and can be seen to the right. If you are a Bobobo-Bo Bo-Bobo fan, than you are in for a treat as this series is said to pump up the hilarity of the original series to the max.
What do you think of Fuwari! Don Patch? Let us know in the shoutbox and comments section.