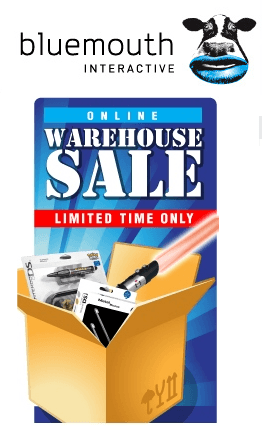 Bluemouth Interactive – Australia's leading videogame accessories wholesaler – is having an online warehouse sale for a limited time only.
This is their first EVER online Direct-to-the public sale.
Hurry, over to the warehouse sale site: http://www.bluemouth.com.au/warehousesale.
Super Specials include gaming accessories up to a massive 72% off RRP.
There you'll also see accessories at irresistible prices for Nintendo DS DSi DSiXL | WII | PS3 | PS2 | PSP | Xbox360 | Strategy guides | Cases | Memory Cards | Controllers | Starter Kits | Cables | Adaptors | Attachments | Organisers | Software Bundles | Stylus | Sensor Bars | Music
Note: Australian residents only.