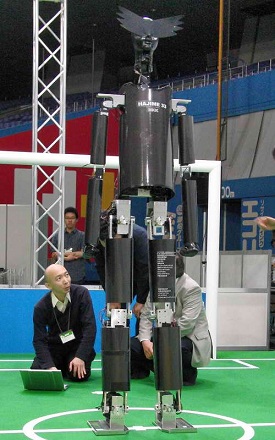 A 4 meter (13 ft) humanoid robot is being developed by Hajime Research Institute in Japan. After its completion, it will be the tallest humanoid ever. President Hajime Sakamoto, however, aims for loftier goals. Having been building humanoid robots since 2002, the Hajime Research Institute's 4 meter robot is just one of the first steps towards something literally bigger. If successful, they will also build an 8 meter (26 ft) model, eventually working their way up to 18 meters (59 ft), the size of the 1/1 scale Gundam statue in Shizuoka.
Sakamoto already built a 7 foot (210cm) tall humanoid robot in 2009 which immediately became the tallest in the world that year. Dubbed Hajime Robot No. 33, the 2 meter robot can walk, bow Japanese-style, and play soccer – and all of these movement commands can be relayed using a Playstation controller.
Sakamoto's dream is to build a real life version of the popular Gundam robot in time with the anime's 40th year anniversary. He takes his dream one step further with the development of the 4 meter humanoid robot that even boasts a built-in cockpit. His ultimate 18 meter humanoid would have to wait, however, as Hajime Research is still looking for sponsors for its current tallest humanoid robot project while it is under development.