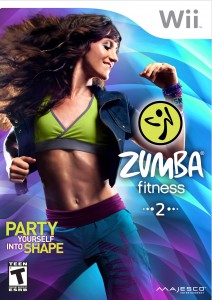 Zumba is a craze sweeping the nation! Or that's what my television tells me at 2 in the morning. Well, Zumba certainly swept the fitness game titles, selling more than 4 million copies and being the number one on the wish list of fitness gamers (and they just might happen to be females… so what?).
Zumba Fitness 2 builds on the foundation of the first one, with all new routines, music, customization features and 24 dance styles, more than any other game out there. The Zumba presenters Beto, Tanya Beardsley and Gina Grant are there to egg you on through all the new styles and venues. There is single song, full clas and multiplayer mode, with support for up to four dancers.
So get those hips swaying and those abs defining, cos that's what Zumba is all about!
Zumba Fitness 2 is available on the Wii at the RRP of $69.95 or HERE for $40.32