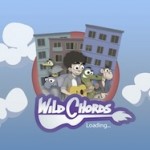 Get ready to rock as WildChords makes its debut on iPads on November 17! WildChords is a Freemium title, with 26 fun and motivating exercises for beginners and intermediate guitar players and additional lessons available with in-app purchases.
Using the iPad's microphone, the educational game can be played with your acoustic or electrical guitar at your pace, providing feedback on your progression and skill. And not only are you learning things, but they've got a game to go along with it too. You strum through lessons to hypnotise and collect escaped zoo animals so you can lure them out of Ovelin City. Each set of lessons is through Ovelin City, searching of animals and building your skill and teaching proper chord and scale executions.
WildChords also includes an integrated tuner that uses the iPad's microphone as well, so you can keep your guitar tuned up for when you want to take on the game.
Check out the first tutorial below!
WildChords is available for free on November 17, so if you're a guitar person make sure that you grab a copy of the app.