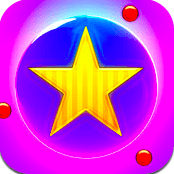 My favourite free app site Daily App Dream have published Assyria Game Studio's sequel to their game The Glowing Void. The Glowing Void 2 isn't just an update, it's a brand new game with a new look, more content, more fun, more challenges, and is available in beautiful HD.
The concept of The Glowing Void 2 is to fill the glowing void with your circles while avoiding the dangerous bouncing red dots, and finishing each level by filling most of the void. Now, there is a dirty joke somewhere in there, but I'm a classy lady so I'll let you guys figure it out for yourselves. (But not too classy, so if you come up with a good one, leave a comment below so we can all snicker to ourselves!)
As well as the improved graphics there is also iCloud Support, OpenFeint integration, full Retina display support, and rotating GUIs to allow for gaming in any orientation. There are also a few different modes including Classic where you fill up 70% of your screen, Survival where you keep going as long as possible, and three in app purchase modes, Gamer and Dodger. Gamer mode has power-ups that you can pick up, Dodger mode involves achieving your highest score by surviving as long as possible by dragging around a pre-made void with your finger, and Speed mode where you must do your job as quickly as possible while being able to take 3 hits.
The Glowing Void 2 is now available for $0.99 – get it HERE