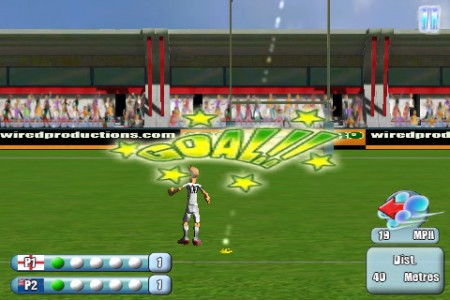 Wired Productions' latest app is now available on the app store, making the most of the recent World Cup hype with a game called Spot Kick Hero. Pick your spot and hope your aim is true to get it between the sticks.
It's a free app, so if you're interested then take a look HERE
Game Details:
Spot Kick Hero Rugby will test your nerve from the spot with 3 exciting game modes and quick-play shoot-out challenges. Choose your team and progress through Tournament mode, judging wind-speed and direction carefully as you take on friends en route to the final and ultimate Spot Kick glory.
Features:
3 intuitive game modes.
Exhibition mode to practice your spot-kick skills.
Tournament mode, taking on friends or the AI players.
8 countries to choose from, all with different skills.
Hoopla fast-action Mini Game.
Multiplayer for up to 8 potential Spot Kick Heroes.
New updates coming soon, including Soccer and American Football.