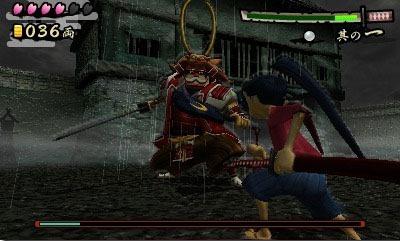 As many 3DS eShop owners know by now, we have been getting quite a few quality titles on the service as of late. By the looks of it, that trend will continue for 2012 as Nintendo have now announced that Sakura Samurai: Art of the Sword will be launching on the service next year.
In this romp, players take control of a young warrior as he travels through ancient Japan to save a princess. With many enemy soldiers blocking the way, it's your job to identify the enemy's attack move, dodge it by a hair and counter-attack with his own mystical Sakura Sword to win the battle. Not a whole lot is known about this downloadable title other than it releasing for the eShop in the east last week under the name Samurai Hirari Sakura.
Either way though, it's nice to see some eastern releases making their way to the west and come January, 3DS owners can learn the art of the blade themselves when Sakura Samurai: Art of the Sword officially releases.