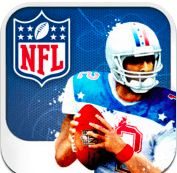 From the creators of Flick Golf and Flick Soccer, here comes NFL Flick Quarterback, featuring all 32 official NFL teams. Using the same awesome flick and touch controls, NFL Flick Quarterback is sure to be a hit for Madden fans.
Using a lot of Madden rules you have to outsmart, dodge, and throw accurately to get the highest score in awesomely rendered 3D stadiums. With more than 120 unique football animations, NFL Flick Quarterback ranks among the better Madden games on the iOS.
Pick your favourite football team, customizing your jersey name and number to either be one of the greats or forge your own path in Madden. Or, hell, just put a bad word on the leaderboards.
NFL Flick Quarterback is available now for $2.99 on iPhone and iPad – get it HERE