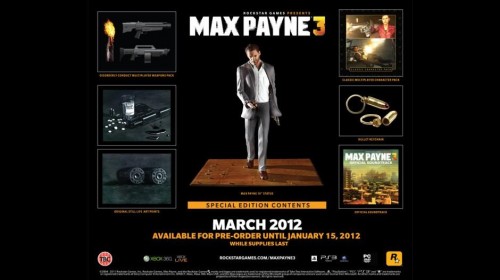 Max Payne launches early next year and while we all patiently await to see how Rockstar treated the sequel, we can also get those wallets ready as Rockstar have officially announced a Collector's Edition that is now available for pre-order everywhere. From a statue featuring Max himself to a ton of in-game extras and tunage, there is a good bit packed in for the price.
What all is inside?
A copy of Max Payne 3
10′ tall Collectible Max Payne Statue created in a collaboration between TriForce and Rockstar Games
Series of game-inspired Original Still Life Art Prints that depict some of Max Payne's inner demons and vices
Copper and brass-plated iron, bullet-shaped Bullet Keychain featuring a screw-off back
Classic Multiplayer Character Pack of eight playable multiplayer characters for Max Payne 3 Multiplayer, including fan favorites from the original Max Payne and Max Payne 2 like Max Payne from Max Payne 2, Mona Sax and Vladimir Lem
Disorderly Conduct Multiplayer Weapons Pack for Max Payne 3 Multiplayer that includes the Hammerhead Auto Shotgun, G9 Grenade Launcher and Molotov cocktail
Max Payne 3 Official Soundtrack featuring the game's instrumental score.
Whether your new to this tale of revenge or have followed it from the start, this edition seems to have something for everyone and at just $99, the whole set seems to be a fantastic value. Now as pictured in the promo sheet above, this whole limited edition is in fact meant to be limited, so those who plan on pre-ordering need to do so by January 15th.
So what do you think? Are you snagging up this version?