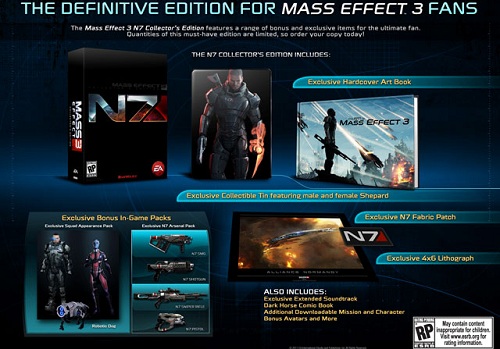 BioWare has revealed that they will be releasing a special Collector's Edition version of Mass Effect 3, which they are inventively calling the Mass Effect 3 N7 Collector's Edition. The package will cost $79.99 and come with a number of special content that everyone could enjoy, especially those who love Mass Effect.
The package will come with a premium metal case that features both the male and female Commander Shepard, a 70-page hardcover art book, a limited edition Mass Effect comic by Dark Horse, a Fabric N7 patch, a 4×6 lithographic print of the SR-2 Alliance Normandy.
Besides all those special goodies, the package will also contain in game bonuses such as the N7 Arsenal Pack, which upgrades the firepower of all N7 weapons, a costume pack for your squad, a Robotic Dog for the Normandy and the digital soundtrack of the title. You can check out all te various features in the video below.