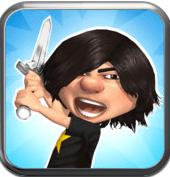 Mamba Nation Battle has been released by publisher BulkyPix and developers Mimesis Republic. It's based off Mamba Nation Universe, which has over 200,000 member currently, so Mamba Nation Battle is certain to have an awesome starting point.
In Mamba Nation Battle you create an avatar, take up arms, choose your strategy and battle an entire world of enemies. There is Facebook connectability for you to battle your friends and brag about just how awesome you are at conquering. The game has a simple and original gameplay, decent graphics and a sense of humour. What else can we ask for from a game?
Mamba Nation Battle works around the idea that you can battle up to five times and then you need a two hour break before fighting again. This isn't a game you're going to be able to pound out in a few hours, it's one that you're going to have sitting on your iOS device for a while. Whether or not that's a good thing depends on who you are.
Mamba Nation Battle is available now for FREE with in game purchases – GET IT HERE