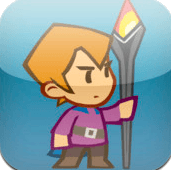 NextFloor have announced the release of GreatMage, a physics-based castle demolition game on the iPhone and iTouch. GreatMage involves using special mages and special equipment to destroy monster's castles. As you advance through the game you unlock new unique magic powers and buy new special ability equipment.
There are three different worlds for you to play through with sixty unique stages, eight special magical abilities to unlock and discover, and four great equipment types. There are also defense style mini games to play when you're not too busy trying to conquer monster castles.
Check out the gameplay trailer below!
GreatMage is available now for $0.99 – BUY IT NOW