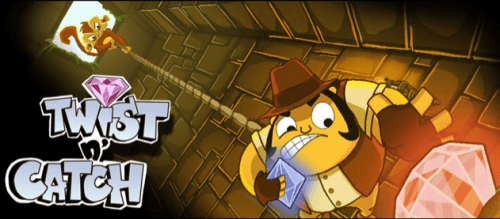 Okugi Studio is delivering its first game app for Smartphones, Twist n'Catch. Which sounds like a game based around fishing and therefore something I am immediately bored by, but no! Instead it is a dexterity puzzle game in which you travel to exotic places and collect yourself some treasure. And who doesn't love treasure?
You play as the explorer Emmet Black, finding the best possible way to gather treasure while hanging in the air by a rope. Held there by your assistant Sergeant Cookie you have to avoid obstacles and traps to collect diamonds and sapphires. The game takes place over three worlds and on over 100 levels, for the moment, with more updates promised and more worlds.
Check out the trailer below!
Twist n'Catch is available on Android phones for $1.08 – grab it HERE
Twisnt n'Catch will be made available on iOS soon.