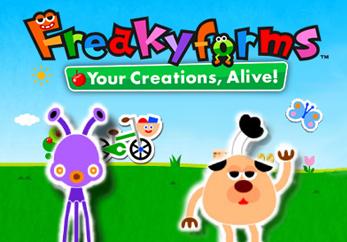 Thursdays are great. DSi, 3DS, and Wii owners get new titles added to their particular service and leftover points turn into something useful. What's out this week you may ask?
The first title up is Freakyforms for the eShop (3DS Exclusive) that lets players "create bizarre and bubbly creatures" and then bring them to life. There is even a nice little feature involved that lets the player Streetpass other 3DS owners and share their creations. Freakyforms is also a first-party eShop release, so quality is almost a sure thing at at just $6.99, this should hold owners of the platform over until Mario makes his debut on the platform in the coming week.
On the eShop/DSiware service comes Castle Conquerors: Heroes for $4.99, which has players set out to drive an evil empire from their home planet with over 20 hours of gameplay. Also for the service is Bloons TD for $4.99, a tower defense romp where you must pop "Bloons".
Zelda fans must be loving this month, as yet another tribute clip is featured on Nintendo Video, titled "The Legend of Zelda Ballad of the Goddess".
Wrapping things up on the Wii comes "Step Up!" for 800 Nintendo points. This game lets the features "professional trainers and specialized aerobic step workouts to help you burn all the calories you ever dreamed of burning."
I'm quite attached to my calories at the moment, but you can now snag all of the above titles as of today and let us know which one conquers your interest in the comments down below.