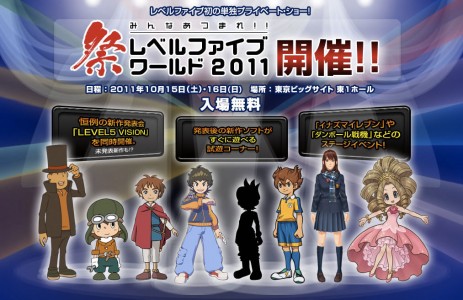 Level-5 president Akihiro Hino has two interest in media: video game and anime. At the moment, Hino has two anime screening on Japanese TV's (and the internet, if you count that): Inazuma Eleven Go and Little Battler eXperience, with Gundam Age premiering soon. However, a tweet from the Level-5 head boss has stirred some interest when one complemented on the fact that people are able to see three Hino-related anime every week over Twitter.
This is what he said:
"Actually, it may not be three. Check back at Level-5 Vision."
Well, Level-5 Vision is Level-5 own annual press conference, which will be hosted at the first ever Level-5 World, an event open to the public, who are given the chance to play demos of the upcoming Level-5 games, both already announced and those announced at the event. The conference will be streamed live as well, so the world can see what he had meant by this tweet.
Because of the live stream, Capsule Computers will cover the conference, updating you with the latest news from the well-known Japanese developer. So tune in on the 15th of October.