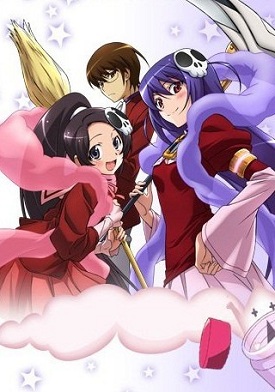 While it may have been assumed by some, Sentai Filmworks has made it official today that they have acquired the license to the second season of The World God Only Knows also known as Kami no Mizo Shiru Sekai. While they had previously announced that they would be releasing an English dub of season one, they never said anything about the second season which finished airing in Japan this year. The company plans on releasing the second season sometime later in 2012 and would be releasing the first season of the show in January on both Blu-ray and DVD. No price has been set for either version of the first season at this time.
For those who do not know, The World God Only Knows follows Keima, a boy who loves only the 2D world and is known as the "God of Conquests." Because of his supposed title he has been tasked by hell to retrieve runaway spirits that have taken refuge inside of young girls.
The only way to capture these spirits and save each girl is to "conquer" them, or in normal terms make them fall in love with him. Only problem is, while he may be the "God of Conquests" at school he is seen as a loner geek who cares nothing for the 3D world.