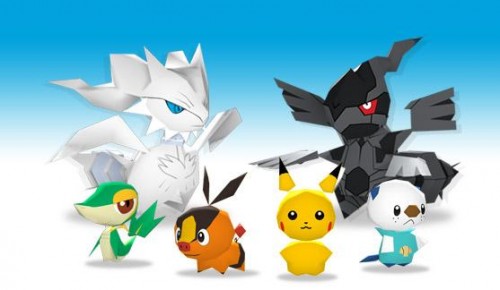 Nintendo have been readily preparing for their release of Pokemon Rumble Blast! for the 3DS, and now have revealed a few more details of what the game will include. Most of you by now should know the general concept the game has, where players must use "Toy" Pokemon from the Black & White titles to battle the many inhabitants of Toyland while leveling up their main allies. It has now been revealed that the game will have a multi-player mode as well as a Streetpass function to allow full battling and interactivity between other owners of the cart.
Nintendo recently issued a statement to share their excitement about the upcoming release:
"There's never been a better time to discover the boundless fun of Pokémon," said Scott Moffitt, Nintendo of America's executive vice president of Sales & Marketing. "As the first Pokémon game for Nintendo 3DS, Pokémon Rumble Blast invites newcomers and veterans to experience action-packed battles with Toy Pokémon in 3D, whether they're playing solo or with a friend."

Players have two ways to connect with each other in Pokémon Rumble Blast. Using a local wireless connection, they can play cooperatively in game areas that both players have already completed, which also makes it easier to collect rare Toy Pokémon. By using the Nintendo 3DS system's built-in StreetPass feature, they can also challenge Toy Pokémon from the collections of other nearby players and view customized Mii™ characters within the game.
Pokemon trainers in angst for that next great Pokemon title can look no further as Pokemon Rumble Blast will be in stores everywhere as of October 24th, exclusively for the Nintendo 3DS.