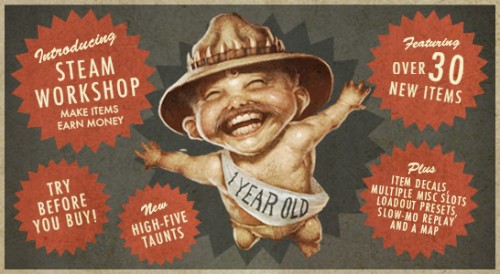 A year ago Valve intorduced a store system in Team Fortress 2 which made it so players could buy virtual items for real world money, which also allowed players to create their own items on the game and make their own money from would-by buyers. Besides buying things for money they could also make trades with other players.
This update adds in the Steam Workshop, a feature designed specifically for item creators. The workshop is "an improved item submission system that allows community item-creators to test, share and track the status of their creations." This is a great little feature it seems, and considering the fact that $2 million were made last year from in-game sales alone, this will certainly help.
Besides the workshop, 30 new hats have been added as well as an item decal system, a week long "try before you buy" item tryout feature as well as a whole bunch of other things. Plus on October 17th everything in the Mann Co. Store is going to be on sale. Good things all around for Team Fortress 2 fans.