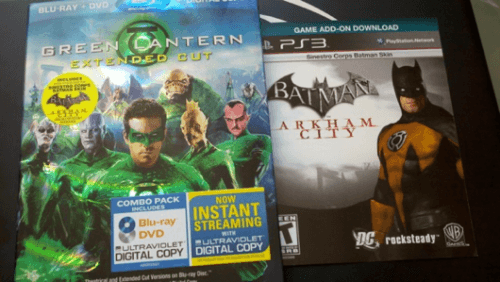 Hey, do you want another costume to dress Batman in when Arkham City launches? Funny thing about that: You have to buy the Green Lantern Extended Cut Blu-Ray combo pack to get that costume.
So you have decision to make: Do you pay the extra $60 to buy a digital costume and then burn the Bluray, or do you wait a couple of months after the games release and spend $1 on the XBM or PS to get the awesome new skin for the Bat? We think the decision is pretty obvious: Burn as many copies of that wretched GreenMan's movie as you can! Let us know your decision in the comments below.
Also, you must buy the Bluray combo pack thing at Best Buy stores and the code for the digital costume in the Bluray pack is most likely a PSN exclusive. Hopefully the costume won't stay exclusive.
The Green Lantern Bluray launches on October 14, 2011.