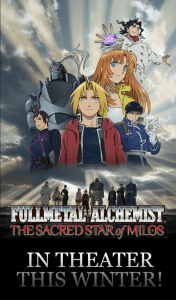 Following their announcement of a theatrical release of the upcoming Fullmetal Alchemist: The Sacred Star of Milos this upcoming Winter, Funimation have confirmed the voice cast for the film, which largely stays the same as the Fullmetal Alchemist Brotherhood english dub.
The english cast for the film is as follows:
Edward Elric – Vic Mignognali
Alphonse Elric – Maxey Whiteheadli
Julia – Alexis Tipton
Melvin Voyager – Matthew Mercer
Miranda – Shelley Calene-Black
Colonel Herschel – Patrick Seitz
Roy – Travis Willingham
Soyuz – Christopher Smith
Vatanen – Elias Taylorson
Gonzales – Bruce DuBose
Pedro – Jonathan Brooks
Winry – Caitlin Glass
Hawkeye – Colleen Clinkenbeard
Sizzler – Brian Mathis
Raul – Andrew Chandler
Graz – Jim Johnson
Armstrong – Christopher R. Sabat
Karina – Tia Ballard
Tony – Christopher Bevins
Breda – Jeremy Inman
As you can see Funimation have retained the cast of the Fullmetal Alchemist Brotherhood dub largely with a few new additions here and there. What do you think of this cast? Let us know in the shoutbox or comments section.