EA Sports have been very quiet since announcing the revival of FIFA Street but we finally have some pictures and details for you. So here's a summary of what FIFA Street 4 will look like:
Complete Authenticity- Players, environments, gear and music- all completely authentic and true to the culture. Official licences for a massive list of stars and clubs, as well as authentic kits, training gear and street gear, not to mention some real street stars from around the world.
Street Ball Control- Greater precision then ever before, integrating creativty, flair and a whole array of new skill moves.
Incorporating the revolutionary Precision Dribbling from FIFA 12, street and stand dribbling will allow your players unprecedented control and maneuverability.

Over 50 new skill moves on top of the vast array that was included in previous versions.
World Tour: The mode we will all be keeping an eye on. Create yourself in the game, build up your team of stars and progress through all the stages from local to national. Compete in 16 tournaments and complete 20 challenges to ultimately take your team to the world stage and make them the best.

A variety of unique environments from the streets of Rio de Janeiro to New York Stadiums (pictured below)
Complete customisation over match types to replicate the unique ways the game is adapted around the globe. Go for the tricks and panna's of Amsterdam, to the futsal-style, no wall style of Spain or get stuck into a rough and tumble 5 on 5 match in the UK.
FIFA Engine: FIFA Street utilises the best features from the FIFA gameplay engine, including the Player Impact, precision dribbling, Personality+, EA Sports Football Club and the rest.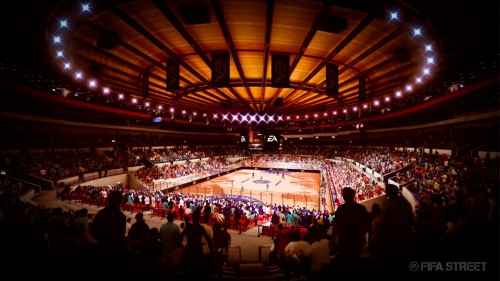 FIFA Street 4 is set for release in March 2012 for Xbox 360 and PS3, let us know your thoughts so far in the comments below!