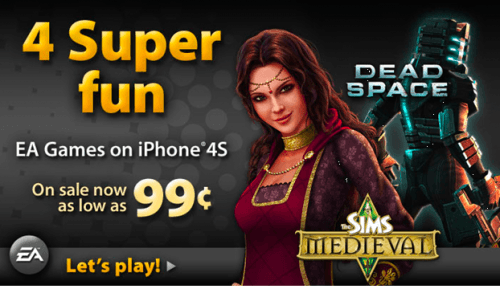 For those you looking to make the upgrade to an iPhone 4S – or those who are already in possession of an iPhone – EA has some good news. To celebrate the iPhone 4S and the new iOS 5, they've decided to drop the price on a bunch of their great apps to an incredibly low 99c and given some of these titles, that makes a huge discount.
The full list and links are below

Battlefield: Bad Company 2
Dead Space
Dragon's Lair II
Madden 12
Fight Night Champion
NBA JAM
Need for Speed Hot Pursuit
Need for Speed Shift 2
Need for Speed Undercover
Real Racing
RISK: Official Game
Sims 3
Sims Medieval
Sims 3 Ambitions
Sims 3 World Adventures
The Game of Life
So get in quick and grab yourself a bargain because these prices are certain not to last long!
(N.B. While the price hasn't changed to the sale price on the App Store website if you click through to iTunes the price will be for the 99c)