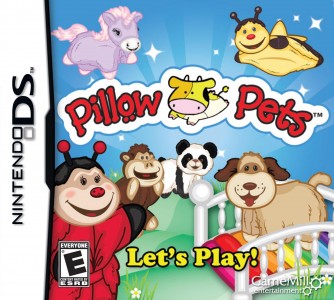 If you happen to have a little one at home that cannot get enough of their Pillow Pet, then you are in luck as Gamemill have now announced a new Nintendo DS title that is based around the plushy fad. In "Pillow Pets", the player must set out to find their lost pal in the world of Dreamland. To do this, they must now "jump, fly, and buzz" throughout the in-game universe to ensure the pillow's safe return while meeting up with several familiar and cuddly faces from the brand.
A full list of features was also released by Gamemill today, which better details what players can expect in the way of customization and the little adventure packed in:
Collectables: Meet and collect up to 16 well-known Pillow Pets™ characters including farm critters and jungle animals!
Beautiful Lands to Explore: Venture into magical lands including Fantasy Woods, Rainbow Valley and Slumber Land Castle!
Customization: Accessorize your Pillow Pets™ from head to toe! Up to 40 accessories to unlock from hats, glasses and more!
Rewards: Gather tokens, unlock bonuses and garner prizes in each level!
Since we did see a "Silly Bandz" game last year, I can easily say this release comes as no surprise as nothing works better to capitalize on a fad than a video game, and this title appears to have a concept that kids are sure enjoy either way. To get a better idea on how the game actually looks, you can check out the first set of screenshots for Pillow Pets below.