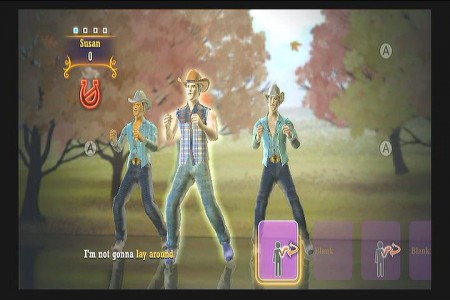 Not too long ago, the sequel to the popular dance title Country Dance was announced along with a good number of new performers that players can strap on their boots and boogie to. Today, Gamemill have now added the likes of Brad Paisley, Jason Aldean, Luke Bryan, Keith Urban, Dierks Bentley and Joanna Smith to the artist list and have also released a new trailer that is sure to excite country music fans.
To catch you up a bit, here is the updated tracklist as it stands now:
Brad Paisley – "Old Alabama" (newly revealed)
Dierks Bentley – "Sideways" (newly revealed)
Jason Aldean – "My Kinda Party" (newly revealed)
Joanna Smith – "Getting Married" (newly revealed)
Keith Urban – "Better Life" (newly revealed)
Luke Bryan – "Country Girl" (newly revealed)
Ashton Shepard – "Look It Up"
Billy Currington – "People Are Crazy"
Blake Shelton – "Honey Bee"
Carrie Underwood – "All American Girl"
Easton Corbin – "Roll With It"
Eric Church – "Hell On The Heart"
George Strait – "Here for a Good Time"
Gwyneth Paltrow – "Shake That Thing"
Hayley McLean – "Good Time Bone"
Josh Thompson – "Won't Be Lonely Long"
Kellie Pickler – "Tough"
Little Big Town – "Little White Church"
Miranda Lambert – "Gun Powder and Lead"
Montgomery Gentry – "What Do Ya Think About That"
Rodney Atkins – "Take a Back Road"
The trailer released shows off the newly added in modes such as the sing-a-long feature, "duet dancing", the calorie burning exercise mode", and of course some of the setlist players can expect to see within. Watch that new clip below and get ready, as Country Dance 2 is set to hit the Nintendo Wii come this November.