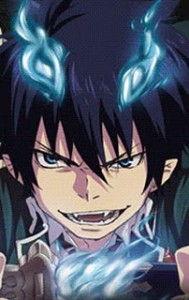 Following Blood-C's lead earlier today, Blue Exorcist is now getting a movie follow-up as well, finally coming full circle in it's Full Metal Alchemist similarities.
Blue Exorcist was previously adapted into an anime series and mid-way through drifted from it's original manga content (much like Full Metal Alchemist). The anime series itself is set to conclude this coming Sunday, which is already going to be a big day for anime, what with One Piece going into the New World and Hunter x Hunter making it's long awaited return in animated form. Needless to say, all eyes will be on anime on October 2nd, 2011.
No further details have been revealed regarding the Blue Exorcist film, not even a release date. So for now it's entirely up to the speculation of the fans. Want to speculate as well? Let us know your thoughts in the shout box or comments section.