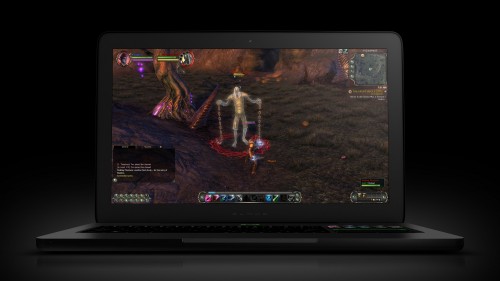 We have been wondering what Razer was planning, and now we finally have the answer: A GAMING LAPTOP! Shown off at pcgamingisnotdead.com* and announced at PAX, the Razer Blade (get it?) is "The World's First True Gaming Laptop." Although we are as shocked as you that the Razer has not used the Blade moniker on any other product in their line, we have to say that the specs on this beauty look impressive. Check it out for yourself below. And hey Razer, if you have like, you know, a few spare Razer Blades lying around, I know some people who want them ok? No need to go through the hassle of finding addresses, shipping them to stores and the like mmm k?
Official Statements from Razer about the Razer Blade:
"True Portability
Mobile systems developed for gaming today compromise on portability and form factor for game performance. At 0.88″ thin and weighing less than 7lbs, the Razer Blade with a full aluminium chassis is the thinnest laptop of its class and truly portable. It strikes the perfect balance between portability and performance.
Incredible Performance
Developed in partnership with Intel, the Razer Blade features a fast Intel Core i7 processor, a high performance NVIDIA GeForce GPU and a 17″ LED backlit screen, capable of running the most demanding games of today in crisp high-definition.
Revolutionary User Interface
The Switchblade UI comprises of 10 dynamic adaptive tactile keys for easier access of in-game commands, and an LCD capable of two modes: one mode that displays in-game information when a mouse is in use; and another mode that functions as an ultra-sensitive, multi-touch panel designed for gaming on the go."
Make sure to check out the official website of the PC for a video tour and even more images: razerzone.com/blade or pcgamingisnotdead.com

*And for some reason we are having technical difficulties with the links on this page, so make sure to copy and paste them into your browser instead of clicking. Apologies!