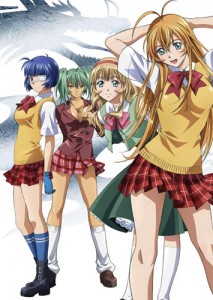 Panty shots, bouncing bosoms and paper clothing will make their return in the upcoming Ikkitousen OVA series. The new OVA is to be titled Ikkitousen Shuugaku Toushi Keppuuroku and will feature all the fan-service you'd expect from a Ikkitousen anime.
Along side the announcement of the OVA which will make it's debut this Fall 2011 anime season, was a very NSFW trailer.
If you were worried that the Ikkitousen OVA may not be able to keep up with it's standard of extreme fan-service that it has set, give the trailer a quick playthrough. Needless to say, there is more animated flesh on show then the hentai section of your local Gametraders store.