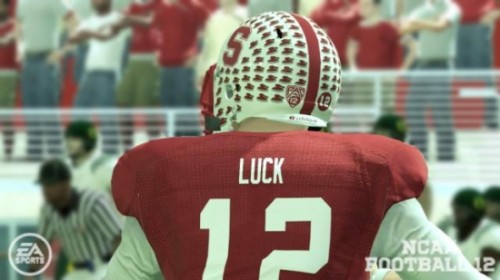 Luck seems about right, because that may be just what Electronic Arts needs in this upcoming class action lawsuit being leveled against them. The lawsuit has been going on for over two years and it involves compensation for using athletes' likenesses in EA's popular NCAA football and basketball games. Considering most NCAA athletes aren't allowed to be paid in any shape and or form, this wasn't a problem before, but has recently been the a thorn in EA's side.

USA Today decided to do a little calculation on behalf of Electronic Arts and found that the company could lose over $1 billion in damages if they were to lose the case. The math from USA Today breaks down as such; the lawsuit says that each player can be given $1k per likeness used per platform. The likenesses break down to $305.5 million for football players and around $29 million for basketball. This leads to a total of $334.5 million.
The judge presiding over the case can make the decision whether or not EA and the NCAA "knowingly, willfully or intentionally" violated compensation then the amount can be tripled, placing it at nearly $1.1 billion. Maybe that is why EA started Project Ten Dollar and $25 season pass… to pay off their legal fees.