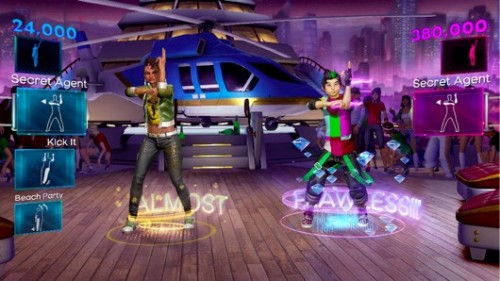 At PAX this past weekend, Harmonix revealed six new tracks that will be coming to Dance Central 2.
At launch, the game will have 40+ songs. In addition, it is likely that you will be able to import the first Dance Central disc and that DLC will be released later on. For now though, check out the new stuff (and the old stuff) that was announced. What are you looking forward to dancing to most?
Announced at PAX:
Haddaway – What Is Love
Digital Underground – The Humpty Dance
Sir Mix-A-Lot – Baby Got Back (Mix Mix)
Bobby Brown – My Prerogative
Kurtis Blow – The Breaks
Usher ft. Lil' Jon & Ludacris – Yeah!
Previously announced tracks:
Rihanna – Rude Boy
Nicki Minaj ft. Sean Garrett – Massive Attack
Montell Jordan – This Is How We Do It
La Roux – Bulletproof
Far East Movement – Like A G6
B.o.B ft. Bruno Mars – Nothin' On You
Bananarama – Venus
Usher ft. Pitbull – DJ Got Us Fallin' In Love
Flo Rida ft. David Guetta – Club Can't Handle Me
David Guetta ft. Akon – Sexy Chick
Daddy Yankee ft. Fergie – Impacto (remix)
Darude – Sandstorm
Daft Punk – Technologic
O-Zone – Mai Ai Hee (Dragostea Din Tei)
Bruno Mars – Grenade
Donna Summer – Hot Stuff
Gnarls Barkley – Run (I'm A Natural Disaster)
Lena – Satellite
Enrique Iglesias ft. Pitbull – I Like It
Lady Gaga – Born This Way
EXILE – I Wish For You