When going to conventions, you'll easily spot hundreds of attendees dressed up from all things fiction, whether it be characters from movies to television series, books to video games, anime to manga. Cosplay is one of the activities many convention goers love to take part in. It's fun and cosplaying at conventions enables cosplayers to meet and be with other people who share their interest in cosplay! The first time I ever attended a convention a couple of years ago, I had no knowledge of cosplay. I didn't even know people dressed up as characters from the fictional world for fun! I was so surprised and excited when I saw legions of people bringing my favourite anime and video game characters to life!
SMASH! 2011 was filled with vibrant colours and designs. While the convention attendees were lining up, waiting to get in, I took the opportunity to interview a couple of cosplayers to give us an insight on cosplay.
First up we have Deborah and Katie who cosplayed as Russia from Axis Powers Hetalia and Watari Yutaka from Yami no Matsuei, respectively.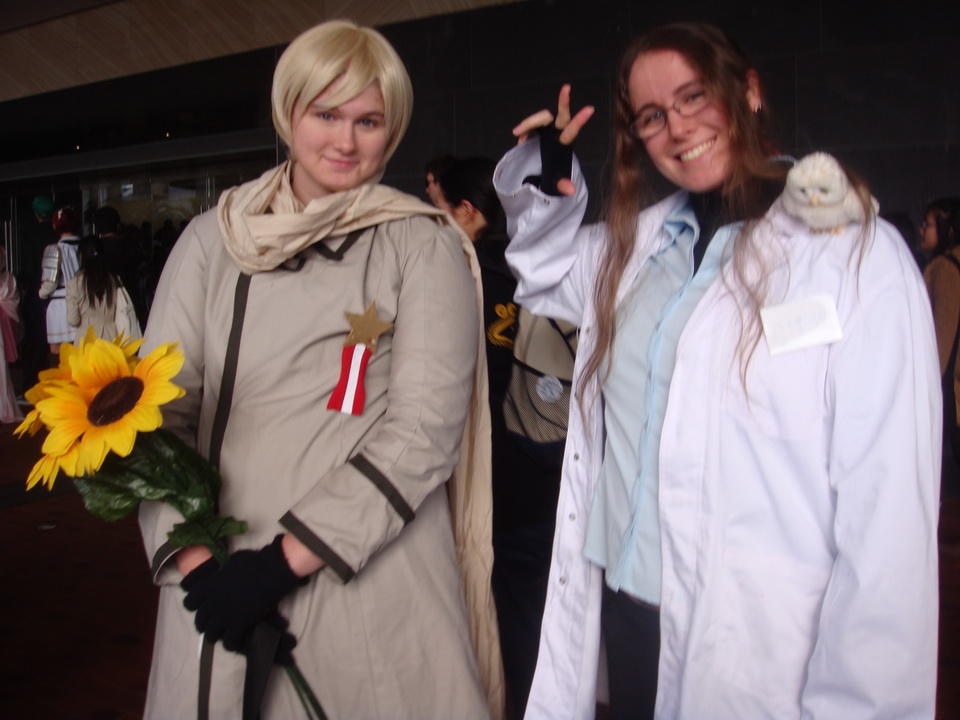 When did you guys start cosplaying?
Katie: Probably four or five years ago when I started university and started going to conventions
Deborah: I think it was about three years ago but this is actually only my second costume so it's been a big gap for me.
What got you into cosplaying?
Katie: um… I dunno, I really like dressing up, and dressing up for anime is heaps of fun coz there's a huge community to join in with
Deborah: I like sewing, it'd fun. I didn't actually sew this one [the costume], my friend did, but I like sewing so it's fun to make the costumes, then I get to wear them which is also fun.
Did you make your costumes?
Katie: Mine's sort of pieced together from what I've had around.
Deborah: My friend's made the costume for me so I didn't make this year's one sadly.
Do you have a dream cosplay?
Deborah: Lightning from Final Fantasy 13!
Katie: Oh, that's hard. Maybe… part of me wants to cosplay as the Dark Magician Girl from Yu-Gi-Oh! but it's a bit revealing and I don't have the self confidence to do it.
And lastly is there anything you'd like to say about your cosplays?
Deborah: um… I don't know what to say. I'm looking forward to finding other Hetalia characters. It's going to be fun.
Katie: It's gonna be interesting… my character is from a pretty old anime. It'll be interesting to see if anybody actually recognises the character.
–
Next we have Tricia, who was in character when I interviewed her. When I asked what her name was, she replied "Yuna from the Besaid Island!"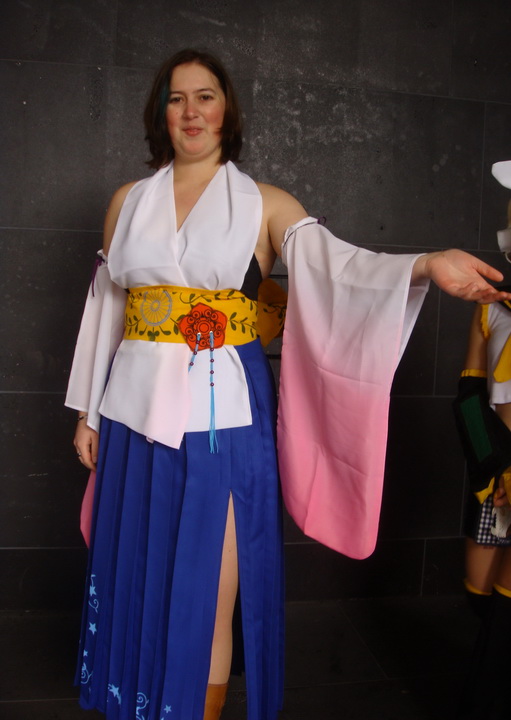 What can you tell us about your cosplay?
The character I've chosen is from a video game that I like to play. I've spent a lot of time with this character while I was playing this game and I really liked her. While I was playing the game I thought she was a really good main character so I picked her to dress up as.
This is the first time you're cosplaying right? What made you decide to cosplay?
I've been to a couple of couple of the cosplay events before and I really love watching everybody in their costumes and I thought I'm gonna be a part of that this time so here we are all dressed up!
Can you tell us about a dream cosplay that you'd like to do?
Um… we haven't really discussed the cosplay that we're going to do in the future yet but there's definitely going to be more costumes and a lot more fun and more events for us [referring to her friend Jesssica].
–
Now we have Tricia's friend, Jessica, who cosplayed as the popular Miku Hatsune from Vocaloid!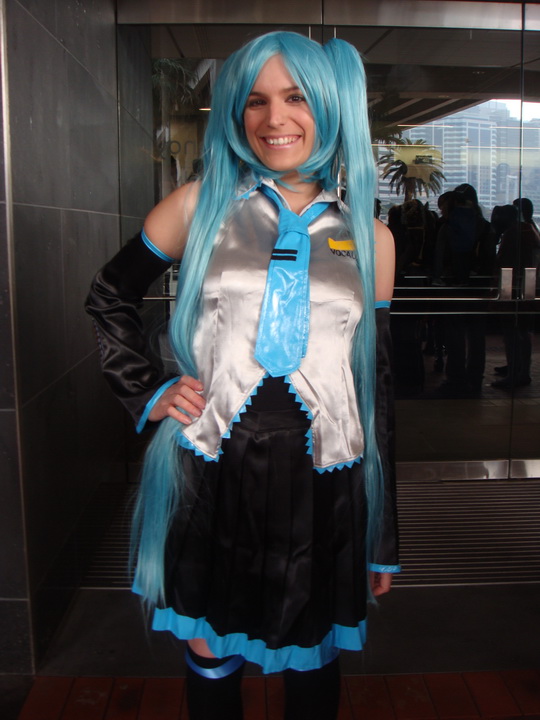 What can you tell us about your cosplay?
I'm Miku Hatsune from Vocaloid and basically I went online trying to find an outfit and thought it looked cool so I got that one.
Is this also your first time cosplaying [referring to Tricia]?
Yes, very first to any convention and definitely the first time I got dressed up for one.
Why did you decide to dress up as Miku?
Um… I like the look of the outfit. I very much like all the sort of cute looking anime characters. It was either that or Sakura from Cardcaptors but Trish thought I looked too much like a little girl so Miku it was!
Is there a cosplay that you'd like to do in the future?
Yes, I don't know what they are, but I'll definitely be in another one with a slammin' outfit for that too!
–
Up next is Karla who was interview-shy but participated anyway! Thanks Karla! She dressed up as Aerith from Final Fantasy 7.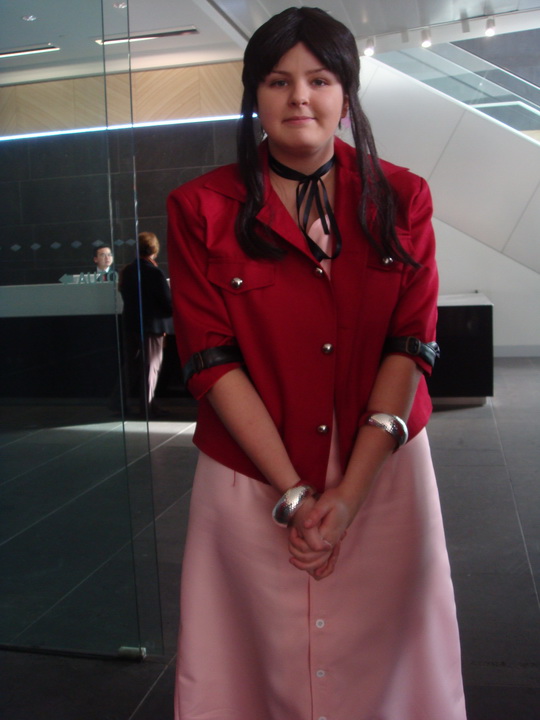 What made you choose to cosplay Aerith?
She's one of my favourite characters of all time and I just really loved her character so much above everyone else.
Did you make your cosplay?
No I have no skill in sewing so if I was to this would have not happened!
Have you cosplayed before?
Yes, I cosplayed last year.
And what made you think of cosplaying?
I used to see it all the time over the internet and I just really wanted to do it, like so much!
And lastly is there a dream cosplay that you'd like to do someday?
One day I want to cosplay as England from Hetalia.
–
And lastly, we have Gloria, cosplaying as Grell Sutcliff, from Black Butler.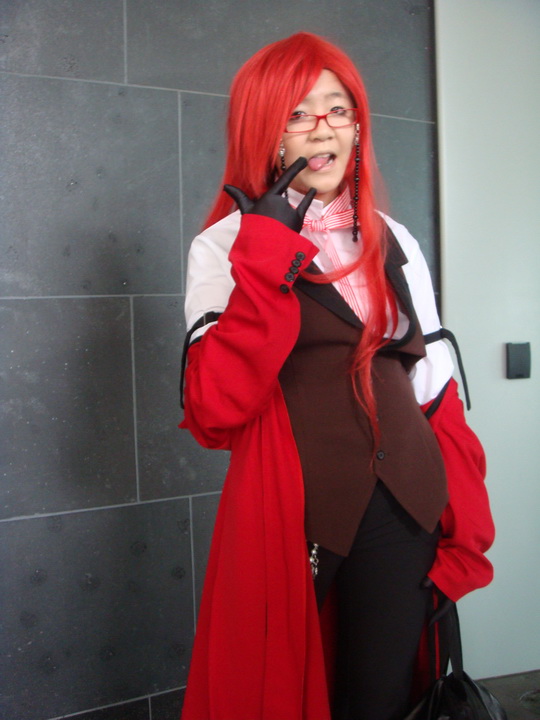 And why did you pick this character?
Because he's really eccentric and he's really out there.
What made you think of cosplaying?
It really looks like fun and I just see a lot of photos about people cosplaying.
Did you make your own costume?
No, I had to buy and assemble em together.
And do you have a dream cosplay?
I want to cosplay as Stocking from Panty & Stocking with Garterbelt.
–
I haven't heard of Panty & Stocking with Garterbelt so I googled it up and found that it's about sisters called Panty and Stocking who were kicked out of heaven and have powers like being able to transform their stockings and underwear into powerful weapons! What a fascinating concept!
A shout of thanks to Deborah, Katie, Tricia, Jessica, Karla and Gloria! You guys were awesome!