The second of the Nabeshin panels was held at one of the Bayside Gallery rooms which overlooks Darling Harbour with Sydney's skyline in the backdrop. A moderately sized room with a great view, perfect for a fun panel with Nabeshin! This second panel was less structured than the first and mainly consisted of fans asking him questions. The panel should have probably been re-named to "Up close and personal: a Q&A with Shinichi Watanabe!"  Why up close and personal?
Well Nabeshin basically talked about anything and everything that came to him. There were mentions of women's panties (I think that was from the first panel actually), his constant invites to his hotel room, invitations to be your boyfriend (sorry guys, girls only!) and the maintenance of his awesome afro!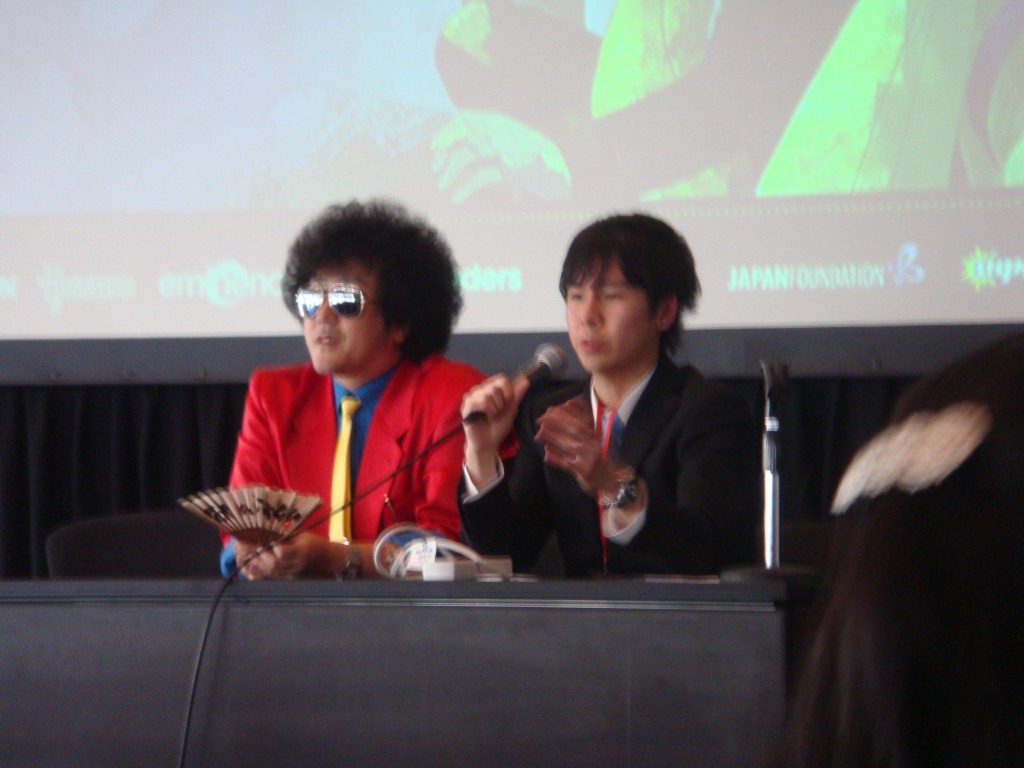 Watanabe, best known for directing anime such as Excel Saga and Puni Puni Poemy, entered the stage with "Yeahs!" to get the crowd going!
The first question was about his nickname Nabeshin coming to him from the gods. He said that he likes his nickname very much and it came from a god with no responsibilities and that he's the only one called Nabeshin in Japan – a big thanks to, Shin, who was Nabeshin's translator. Without him, all of us non-Japanese speakers would have been left out in the woods!
This article would be pages and pages long if I transcribe the whole 58 minute interview so here are the highlights:
*When asked if he could sing the afro song from Excel Saga, he replied with "Since I'm a voice actor, if you want to see me singing, you have to pay for it! As you know it's pricey! But if you guys pay us $300 each, I'll sing! Anyone?" silence in the crowd, "$100?" still silence, "How about $50 and I'll sing? $10?" There was laughter and he sang an excerpt in the song anyway!
*A female attendee asked him if his sunglasses were Ray-Bans and that if she could have it. He answered, "Yes you're right they're from Ray-Bans. These sunglasses I'm wearing now I bought it with a 1000 yen, which is $10, in Tokyo, so you can buy it instead of giving it to you! Even if it's only $10, since I'm wearing it, it's more valuable. Even if it's kind of precious, I'd like to auction it now! I'm gonna start with $7 000! You wanna
buy it?"
*When asked if he has a girlfriend, he responded with, "I've got 100 girlfriends, that's it for now. If you want to do this you can be my girlfriend!" He then told her that he can be in a boyfriend/girlfriend triangle relationship [pertaining to her male companion]. Next he asked, "In the first place, do you really want me to be your boyfriend?" She replies with "Daijoubu desu (it's alright)." This prompted him to ask "Do you mean you hate me? What if your boyfriend dies now, will you be my girlfriend? Does anyone here want to be my girlfriend?"
*A guy asks him, "What's the secret behind your beautiful afro?" "It's top secret because if I tell you guys, you will take my hairstyle… I don't want anyone to get my hairstyle. But do you want to get afro hairstyle? You can come to my hotel tonight so I can teach you! I was just kidding, please don't come!"
*The host of the Q&A panel, I think his name was He-chan, asked Nabeshin what he thought of Australia. Nabeshin replied, "No offence, but when I came to Australia for the first time, I didn't know that this country is full of discrimination. Why can't I hug koala? Why can't I touch koala? It doesn't make sense to me, because I'm paying for it to enter the zoo, so why can't I take photo or touch koala or that kind of stuff? And then why is it ok for kangaroo? Besides, in the café over there yesterday, I had the meat of kangaroo, so why koala cannot be touched or eaten but kangaroos are ok? I don't understand! So in terms of ranking it's koala, people then kangaroo!"
*What do you think about American comics? "Even though I don't know about American animation much but I think I American comic animation is more direct in a sense. So as for American animation the idea is pretty simple; what's cool is cool, what's fun is fun, and what's scary is scary. But in terms of Japanese animation, the whole itself includes the implication of what IS cool and vice versa; so American animation has a sort of powerfulness whereas Japanese animation is more like technique."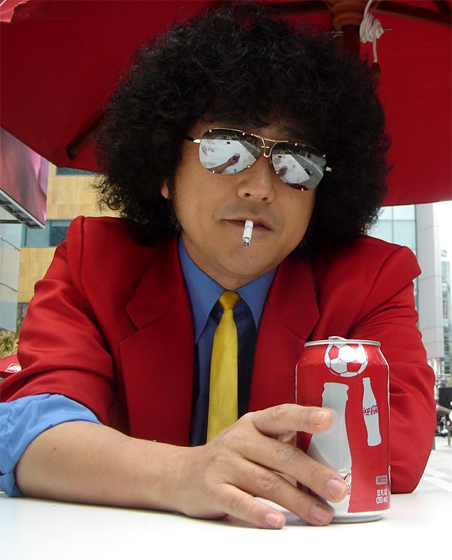 To wrap things up, Nabeshin,  showed us his famous Nabehameha which is his version of Dragon Ball Z's Kamehameha, and got the audience to do it with him!
Nabeshin was awesome to listen to! He's spontaneous and has a quirky yet funny sense of humour. He tried to get what seemed like a non-responsive audience (for most of the time), involved. He did a great job entertaining us with his interesting anecdotes and funny jokes. The host did a good job too. He tried to keep the questions going; asking questions he thought of himself to give more time for the audience to think, and lastly, Shin, without you, most of us there wouldn't have understood a thing! Before SMASH! 2011, I didn't really know much about Shinichi "Nabeshin" Watanabe. After sitting through two of his panels, his charisma and personality won me over and now I consider myself as a budding fan!
I ended up attending his signing to get a Nabeshin artefact for myself!
Hope to see you back in Australia Nabeshin!
Check out more of our coverage of SMASH 2011! here