Like the anime clubs from Genshiken, real-life anime clubs can be considered as great organizations where friends can indulge themselves in everything anime, manga, gaming and Japanese pop-culture in general. They're a great social meeting with fellow anime fans especially when the next anime convention is months away. It's a great relief from all the uni work where you can just come in after a long lesson and watch anime with friends. At SMASH! 2011, five anime clubs exhibited themselves to promote their organisations and creative works. I was able to talk with Sean, the president of JAUWS, the University of Western Sydney's anime club, and Ken from the Macquarie University anime club, AnimeMQ.
First up JAUWS president, Sean.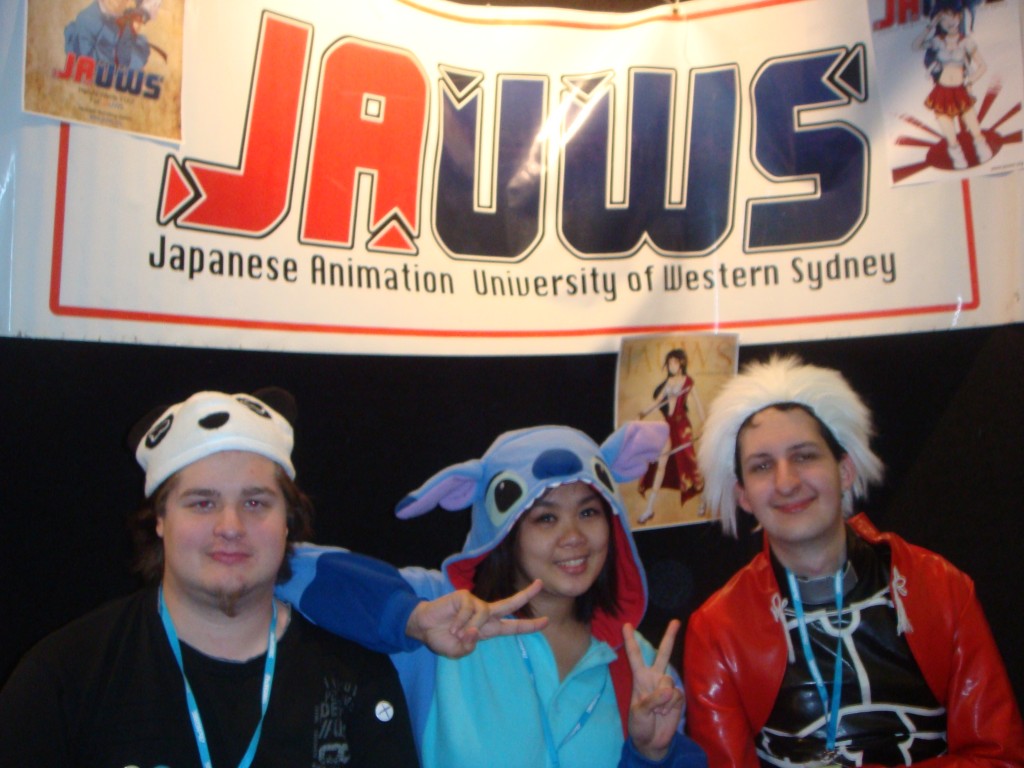 Sean with club members Jana and Sam
Sean what can you tell us about your anime club?
We're pretty much the oldest student club at UWS and one of the oldest anime clubs around. We're actually 15 this year. We've been around for 15 years yeah. As far as the club itself, we're mostly just a small group of friends who get together to watch anime, play games, just generally hang out and have fun.
Would you be able to give us more detail about the activities you do in the club?
We hold screenings, usually twice a week. We do games days at least once a semester, depending on availabilities of people with consoles all that sort of stuff. We have big outings to go see especially nerdy movies
What kind of movies?
Like Thor, we went and saw Thor that was good. Pirates of the Caribbean, Iron Man. We were gonna do a Harry Potter one but then everyone sort of went off on their own and saw it already.
You mention video games, we specialise in video games so what kind of games do you guys play?
Everything and anything pretty much. Except for sport sims, that's basically the only stuff we don't play.
How about the anime screenings you have. Is there a particular genre that you guys favour?
Not as such, but I'm a big mecha fan myself so sometimes it does lean towards more of the mecha stuff when I'm left in control to just pick the series
How do you become a member of JAWS?
Just either send us an email or go to our website and just fill in a membership form.
Do you have to be part of the University of Western Sydney?
No it's open for everyone. Anyone's welcome to join.
And what are the benefits for joining the club?
There used to be a membership fee, but we've abolished the membership fee, so basically the membership is you just basically go on our mailing list so that you'll always like be up to date with what's goping on and all that sort of stuff. Screenings, we're open to just about anyone anyway, your free to come in whether you're a member or not. Actual members get to sort of go to the conventions and work the tables and just basically get into the convention for free.
And what can you tell us about your products here?
We sell mostly sort of anime and internet related badges and stickers. We also – sometimes we get good artists in the club so some of the bigger conventions we'll get an extra table and we'll have them basically doing commissions on the table.
Do you get specific group of people doing the badges or anyone can do it?
Anyone can do it really. I usually get stuck doing it in the last minute. Today I've had most of the staff here have been rotating doing the pressing of the badges and getting that ready. As far as designing them, everyone in the club just chips in with different designs and ideas that they come up with.
With the money raised from selling the product, what do you guys use them for?
The money goes to cover room hire for games days and such. Last year we couldn't get a room with the uni because there was some issues and we just rented a hall. The club laptop, like the funds to get that comes out of like what we make here, and to just generally continuing to get to conventions. The money from the convention goes to get us to the next convention, just basically to get our presence out there.
And what do you think of SMASH! 2011?
It's been really good. I probably shouldn't bad-mouth SMASH! 2010 but things went wrong. This year things have gone really right. It has just been absolutely fantastic. The venue is brilliant. I am just absolutely loving it!
And is there anything else you'd like to say?
Not really *laughs* I've had like an hour's sleep so my mind's not working too well at the moment.
For more info on the JAUWS, visit www.jauws.org
–
Here's Ken from AnimeMQ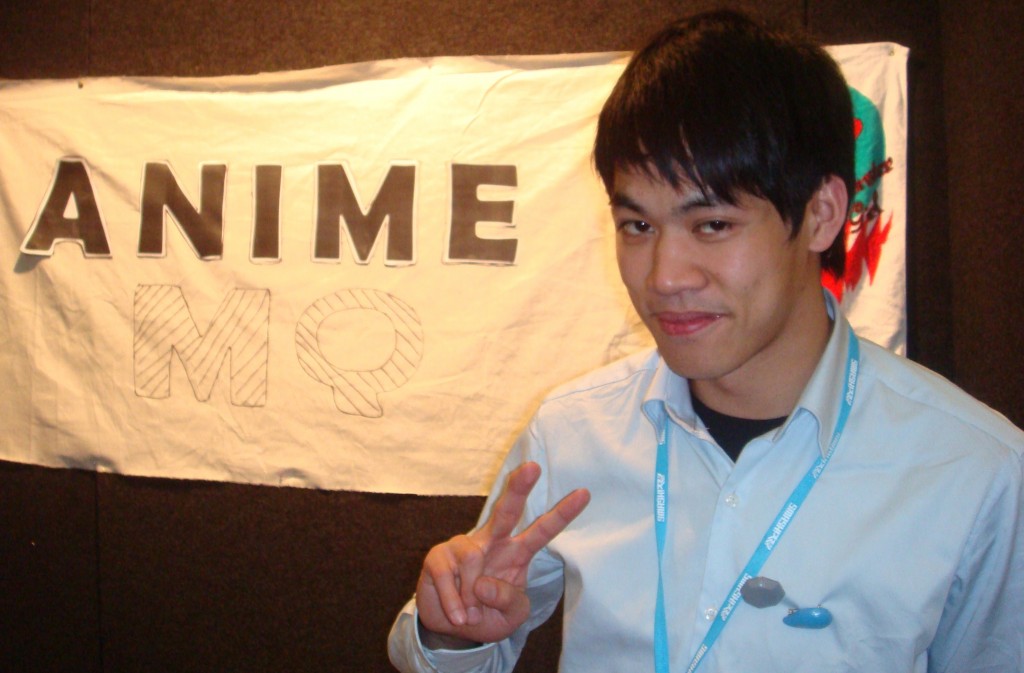 What can you tell us about your club?
Well we're kind of situated at Macquarie University so we're a pretty small club compared to some other ones like Sydney Uni. Because we're not really in the city, we do other things mainly at the campus so like marathons, plan parties and all sorts of things.
Do you know when this anime club was formed?
Not too sure, but we should have at least about 10 years behind us.
Do you cover a particular genre in regards to anime or do you like cater for all?
We're very free like, happy to show any kind of anime.
Can you tell us in more detail about the things you do in the club?
Screenings we normally just watch anime during like lunchbreaks; marathons we book a room and we watch from like 9am to 6pm; and we have LAN parties. LAN parties are dealt with other groups so we have yeah, games, all sorts of games as well. And normally we have to try organise other parties like small things; picnics, karaoke nights, bowling. And then we also have – at the moment we have – we might be organising a cruise with another society at our university, the Japanese Society. So we have very close ties with our Japanese Society in our uni so we're organizing a big cruise and then of course at the end of the year we'll be having a big Christmas party with all the other universities.
How do you become a member of Anime MQ?
Basically they just come during our O-Week, or the university week, and just sign up there. The membership fee is 5 dollars only but it covers all the [?] and the lunch library and screenings so just come during our university week and then you just sign up from there.
Can you tell us about the products you're selling at the moment?
Well we've been working on badges. Our main attraction is the1 pokemon badges, and we did sell these little nyan cat phone straps which sold out almost instantly. We always like trying something different. So yeah at the moment, pokemon, and the badges – all kinds. We have from Shugo Chara and [The] World Ends With You which is a DS game.
And how are you enjoying SMASH 2011?
I think it's great. I've been to most SMASH!es and I thinkit's probably one of my favourites because the place is good, it's good location and there seems to be a lot of open space for everyone. It's quite good yeah.
And is there anything else you'd like to say?
I dunno *laughs* I hope everyone can come and support the clubs and the vendors and yeah, thank you.
For more info on AnimeMQ visit www.animemq.com
A big thank you to Sean and Ken for taking the time to speak with me!