The other day, a few of us here at Capsule got a chance to check out some upcoming games from Gameloft. Staying in-line with their mantra of only releasing games in the digital distribution space, they had a few mobile releasees to show off as well as some PS3 games. I have to say, regardless of what you may think of the company, Gameloft is certainly doing quite a bit right. I think their business model of sticking to digitally distributed games is forward thinking, and they're a technology first company. You can't argue that Gameloft has one of the best engines for mobile game development out there.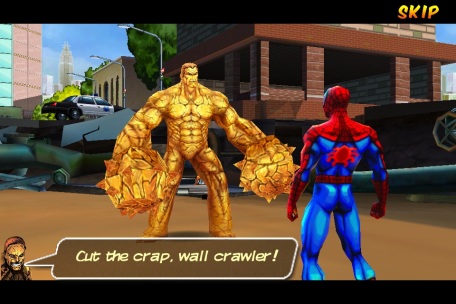 While I was there I got a chance to check out Ultimate Spider-Man: Total Mayhem in 3D which will be available on 3D capable Android handsets. While I wasn't wowed by the 3D (more of a hardware problem than anything else) I have to say it was used to good effect with depth of field. The game itself is inspired by the Ultimate Spider-man series of comics and you'll explore levels and beat up some bad guys while you make your way to the classic Spider-Man bosses. The controls used a standard virtual thumb stick and action buttons and you'll have over 20 fighting combos and moves.
I also had a chance to check out the Silent Ops for iOS and Android devices, which is a third person stealth action game in the line of James Bond mixed with a dash of Splinter Cell. You'll switch between 3 operatives with different play-styles who work for a secret agency called Ubiquity, as you travel around the world to uncover a plot that could change the very fate of humanity. This was a very early build but I was able to check out a few different levels showcasing the jet setting nature. I really like the tone Silent Ops has and I'm genuinely interested to see how it turns out.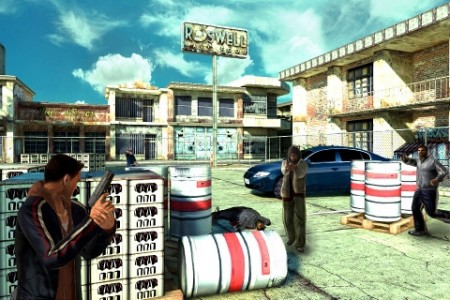 The last game I got to check out was 9mm. Developed for iOS and Android devices, 9mm is a Max Payne styled third-person shooter set in L.A. gangland where you play as a pissed off cop who, with his team, kill a drug lord and decide to take the millions in cash they uncover. Your whole team becomes a target for revenge and you have to take out the head of the gang that's hunting you before it's too late. Much like Max Payne you have some "bullet time" at your disposal which is used with good effect. One event in particular sticks out where I crashed down through a sun window on the roof of a building and automatically went into slow motion and I managed to pull of 3 head shots before I hit the ground. There is no cover mechanic so it really just turns into a straight up shoot fest,which winds up working really well for the game. Even in this early state 9mm was polished, played well and looks like it'll be a great addition to your iOS library if you're jonzeing for a Max Payne fix.
Traditionally Gameloft has been known for releasing titles that were a little less than original. While that's still mostly the same today, you can certainly see that they're growing more comfortable and starting to get more creative in their scenarios. While talking with the guys I was pleased to find that they see this as well and are working on creating new identities with their future releases. Gameloft already has the technology, with some more unique titles under their belt they'll really be a company to watch. I feel they're certainly headed in the right direction and can't wait to see what they have in store for us next.