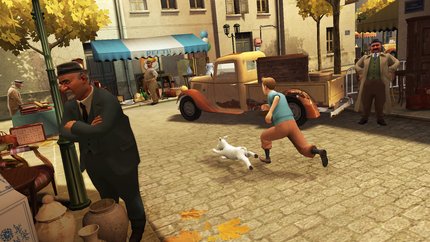 Despite writing for a games website, and not an internationally renowned news paper, I still consider myself to be some what of a renege reporter, with boy scout ethics and a trendy little quiff in my hair. Yes, Tintin and I are truly kindred spirits. It's no wonder I got so excited hearing about the new Tintin game due to be released this year for Xbox 360, Playstation 3, Windows PC, Nintendo 3DS and Wii.
Based on the upcoming feature film The Adventures of Tintin, directed by Steven Spielberg and produced by Steven Spielberg, Peter Jackson and Kathleen Kennedy, The Adventures of Tintin: The Game will give fans the chance to experience the world of Tintin, reliving key adventures from the series. Developed by Unisoft Montpellier in collaboration with Paramount Digital Entertainment, the game will be based largely on the film, featuring iconic environments such as Captain Haddock's ship the Karaboudjan and Omar Ben Salaad's Palace. For more hardcore Tintin fans, loyal to the original text of the book, the game still borrows various elements from Hergé's original comic books such as, The Crab with the Golden Claws, The Secret of the Unicorn and Red Rackham's Treasure.
Players are given the choice to partake in the adventures from the movie either on their own or with friends in one of three gameplay modes. The singe-player mode offers a unique blend of platform-style exploration, encompassing puzzles and combat elements along the way. This portion of the game will also include support for Kinect for the Xbox 360 and Playstion Move for the Playstation 3. The game has also tried to capture the collaborative nature of Tintin adventures, offering cooperative challenges featuring classic Tintin characters. Players work together in special multiplayer maps based on the moody dreams of Captain Haddock. For those of you looking for a little extra competition, there is also challenge mode, allowing players to compete with each other for high scores. Make sure you check out the trailer below, it looks to be an awesome game.