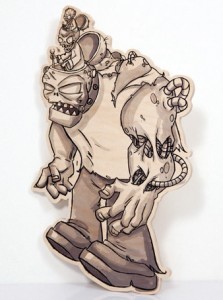 As if making fantastic games wasn't enough to cement a company's reputation firmly in the green, PopCap are currently auctioning off original art works from their popular franchises on eBay, with all proceeds going to charity.
From this week until July 12th, there will be up to nine items on auction, rotating each week. They will include original concept sketches from Plants vs. Zombies, Bookworm and Peggle, personalised sketches, a blue neon Bejewelled diamond, game-themed ceramic sets, and the piéce de résistance: DJ Brainz, a six foot by six foot graffiti art canvas painting of a PvZ-style zombie DJ.
100% of the proceeds will go to charity; both SpecialEffect in the UK and the Starlight Children's Foundation in the US.
Have a look at the video below for an idea of what's up for auction this week, and start your bidding at PopCap's eBay page.