At Supanova Sydney 2011, I have to admit that I felt there was less of a focus on gaming and more of a focus on anime. However, one of the gaming guests that made it to this year's expo was none other than the talented and wonderful Neil Kaplan, who voices Tychus Findlay in Starcraft II, and Optimus Prime in Transformers: Robots in Disguise.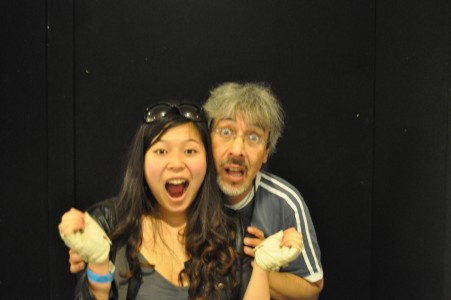 This is actually as awesome as it looks.
In our interview, Neil chats to Michael Marr (or Spike, as you guys may know him) and myself about his role in Transformers: Robots in Disguise, the character of Tychus Findlay, and voice acting in general. He even adds in his own impersonations of Auz-timus (Australian Optimus Prime) and Opti-moose (Yes, that is exactly as it sounds).
Neil was absolutely wonderful to talk to, and such a humble, down-to-earth, and hilarious man as well. You can check out our interview with him down below. Excuse the loud noises in the background and the occasional jump in the frame. I'm upgrading to SD cards instead of tapes after this, I promise.
Leave us any comments on this page, and check out the rest of our Supanova coverage here.