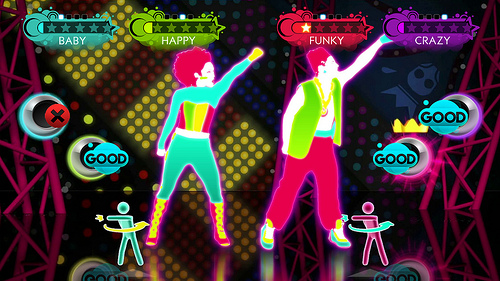 Dancing has been a part of humanity since, well, ages ago! It provides enjoyment, entertainment and brings people together, especially at parties! The development of Just Dance 3 has been announced by Ubisoft at E3 and the game will hope to get people's grove going and keep parties alive! The third game in the Just Dance franchise will be available on the Wii, Kinect for Xbox360 and PlayStation Move for PlayStation 3.
Just Dance 3 will be introducing new game features exclusive to each of the 3 platforms, taking advantage of each platform's unique capabilities. New game features include four-player choreographies and dynamic environments on the Wii, and a new "Shout Out!" feature which allows players to gain extra points by singing song verses on Kinect. Has anyone tried doing karaoke and dancing at the same time? I have, and even though I had fun making a fool of myself, it got everyone singing and dancing with me and guaranteed laughs from my friends!
The more than 40 tracks that will feature on Just Dance 3 will come from a wide range of musical genres such as pop, rock, R&B, disco and more.
Tracks that have been confirmed for Just Dance 3 include:
2 Unlimited – "No Limit"
Black Eyed Peas – "Pump It"
Duck Sauce – "Barbra Streisand"
Groove Century – "Boogie Wonderland"
Gwen Stefani – "What You Waiting For"
Katy Perry – "California Gurls"
Kiss  – "I Was Made For Lovin' You"
Laura Bell Bundy – "Giddy On Up (Giddy On Out)"
Taio Cruz  – "Dynamite"
MIKA  – "Lollipop"
LMFAO featuring Lauren Bennett and GoonRock – "Party Rock Anthem"
With the new game features plus the latest music, and choreographies developed by professional dancers, Just Dance 3 will provide players heaps of fun and entertainment. Whether you're in it for the dancing, the singing, the fitness, the fun, Just Dance 3 will be released worldwide in October 11, 2011.