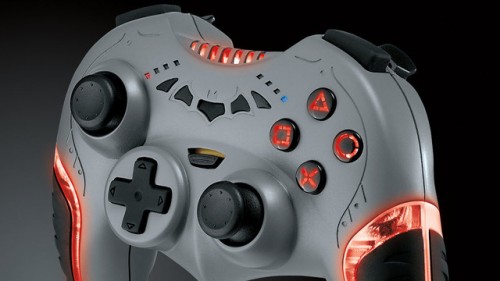 As gamers, we all know that our modern consoles are awesome. But of course, Batman is also equally awesome.  Bring those nouns, Batman and Xbox or Batman and PS3, together and you might make some heads explode.  Therefore, you better watch for exploding heads next week, as Bluemouth Interactive is bringing  video game controllers to E3, and these controllers are modeled after the Batman's signature batarang.  Officially licensed for the Batman: Arkham City game, the controllers have many special features.
First and foremost, they are in the shape of a BATARANG! I don't think it is possible to overemphasize how sickeningly sweet that is.  LED lit, there are 7 colors that the controller can light up in. Dual rumble motors and soft-touch grips round out the experience, but that is not all these beauts include.
The Start and Select buttons are modeled with Batman logos, as are the PS Home, charge indicator and LED color select buttons.The PS3 Batarang is is wireless and also has motion sensors, rechargeable batteries, & a Batman-themed USB RF receiver. The four lights on the left side of the PS3 controller shows the remaining battery charge, the four lights on the right show which channel the controller is using.
The Xbox 360 version is unfortunately wired with a  10ft / 3m cable.
Releasing in time with the game, the Australian price for those wholly amazing control sticks is $69.95 RRP. Both are official Batman collectibles and original Batman designs.  Keep an eye for coverage of these bad boys at E3. Hopefully, Master Abbott or Travis can get some time in with them!