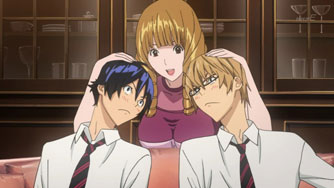 Media Blasters has today announced that they have acquired the license to produce an English dub of the popular Bakuman anime as well as to distribute it through-out the US.
The Bakuman series (created by the infamous Death Note co-creators Tsugumi Ohba and Takeshi Obata) follows the trials and tribulations of Mashiro and Takagi as they follow their dreams to become Mangaka (Manga artists).
Media Blasters have also announced that the first Bakuman dub DVD featuring 7 episodes will be hitting shelves in the US this November. It is still unknown whether it will be licensed by Australian or UK distributors. However with a series this popular it wouldn't be too far a stretch to guess that Madman or Manga UK may announce this soon.