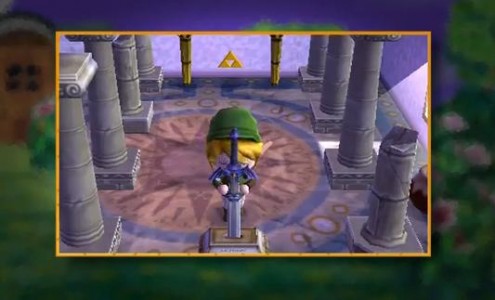 Nintendo quietly revealed a new trailer for the upcoming Animal Crossing 3DS at E3 that included quite a few surprises. From the general appearance of everything though, this title seems to be closely resembling "City Folk" as the environments, neighbors, and the usual  Animal Crossing fare are still very present.
The trailer mainly shows the main character walking around the town, exploring the landscape with the gentle music playing in the background. New features for the franchise are also shown such as the new ability to swim as well as camping with other neighbors outdoors. All of those little things were nice to see, but the most interesting thing to see in the clip was the main character quickly dress as Link and pull out the Master Sword with the tri-force emblem in the background. I want to say that this confirms that Zelda's 25th Anniversary will be present in the game, but as of now it is a bit too soon to tell. Much like many of the reveals by Nintendo, a date is still in question for this new Animal Crossing title, but going off the Zelda reference alone I would guess Holiday 2011.
I think Animal Crossing 3DS still has a lot to show for itself, as there is no way that Nintendo will leave out a streetpass/spotpass function as it fits with the function perfectly. Get a glimpse of the new trailer below.