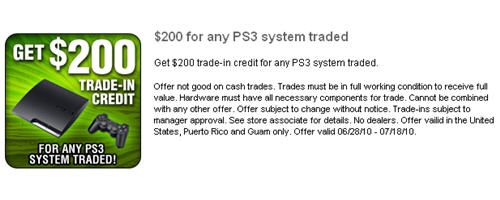 With it being nearly a month since the PlayStation Network was taken down after the security breach, it seems a lot of fans of Sony's PlayStation 3 are looking to get their game on elsewhere. It seems that some gamers would rather pay for their online service and play on the Xbox 360 rather than not have any online interaction at all.
In a report from Edge Online a number of UK retailers have stated that the amount of people trading in their PlayStation 3's for cash or for an Xbox 360 console has doubled. One store manager stated,"In the first week of downtime we did not really see any major change in sales or trades. However from the second week onwards we have seen an increase of over 200% on PS3 consoles being traded in, split almost 50/50 between those trading for cash and those taking a 360 instead."
This also seems to be the case with a number of people bringing in their PlayStation 3 version of Black Ops or Modern Warfare 2 and trading them in for the Xbox 360 version instead. This is a very drastic move by consumers as it is obvious that eventually the PSN will come back online at some point. But there is an extremely large demographic of people who own their console simply to play online with their favorite FPS and with the lack of online support on the PlayStation 3 at the moment, the Xbox 360 is the only way to go. Though it will be interesting to see how these numbers will change once the PSN actually goes back online.